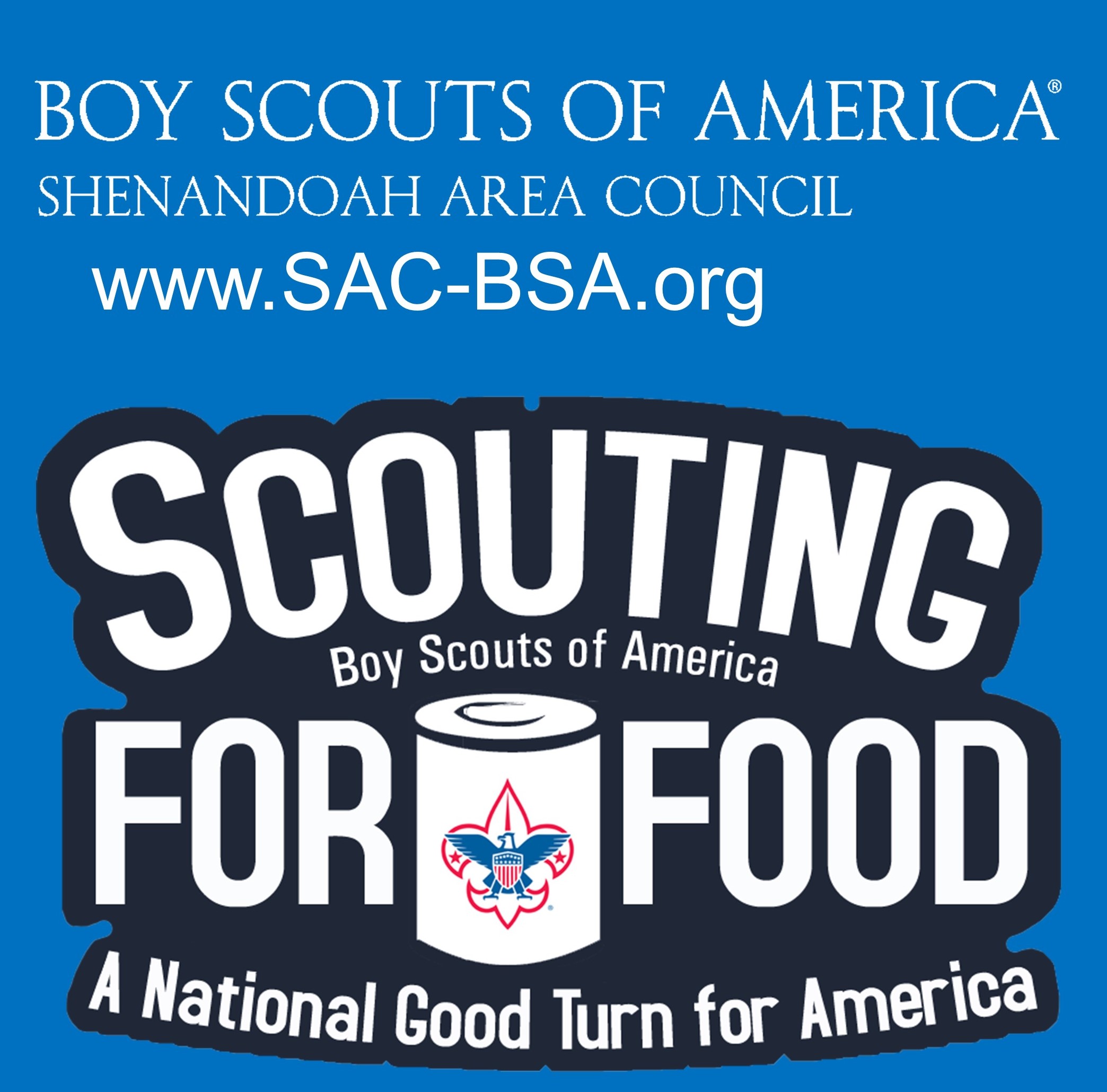 Collection on Saturday, November 14th: if you received a Door Hanger, please place non-perishable canned or boxed (no glass) foods in a paper or plastic bag by 8:00am. Scouts will pick up the bags between 8am and 12pm.
Drop-off Locations: Due to Covid-19, we're not able to cover as many areas in the past distributing information and collecting food throughout neighborhoods in our nine county area. Please check your county below for a Drop-off location nearest you;
Berkeley County WV

Jefferson County WV

Morgan County WV

Frederick County/City of Winchester VA

Clarke County VA

Shenandoah County VA

Rappahannock County VA

Page County VA

Warren County VA
For more information on Scouting for Food, please contact Kimberly Gilbert-Toelle at 540-662-2551 x 505 or by email at k.toelle.esq@att.net.
Shenrapawa District
Contact for missed food:
Shenandoah County: Ginny Hamrick: 540-335-1910
Rappahannock County: Roger Pierson: 540-222-9465
Page County: Andrea Schweigert: 540-860-1558
Warren County: Ann Hall: 540-635-3401
Dropoff Locations:
Shenandoah County
Strasburg Christian Church
165 High Street
Strasburg, VA 22657
Rappahannock County
Rappahannock Food Pantry
11763 Lee Highway
Sperryville, VA
Page County 8 November 2020 only
American Legion Post 22
106 Zerkel Street
Luray, VA 22835
Warren County
First Baptist Church
14 W. Main Street
Front Royal, VA 22630
Front Royal Moose Lodge 829
1340 John Marshall Hwy.
Front Royal, VA 22630
Front Royal Fire Department
221 N. Commerce Ave
Front Royal VA 22630
Front Royal Presbyterian Church
115 Luray Ave
Front Royal, VA 22630
All locations will collect from 11:00 AM to 1:00 PM with the exception of Page County